[Banana Zone] [The Dungeon] [NPCs] [Campaign #1] [Campaign #2] [Campaign #3] [Campaign #4] [Campaign #5] [Campaign #6] [History] [Players]
---
Campaign #1: Player Characters

She's my inspiration, she's my battle cry...
| | | | | | |
| --- | --- | --- | --- | --- | --- |
| NAME | PLAYER | CLASS | STATUS | DEATHS | LEVEL |
| | Starchaser | Fighter | Alive | 0 | 6 (1) |
| | Stephen B. | Fighter (Knight) | Alive | 0 | 5 (5) |
| | Judas | Fighter | Alive | 0 | 5 (1) |
| | Rain (NPC) | Warlock (F-M) | Alive | 1 | 5-4 (1-1) |
| | Blade | Rogue | Dead (Falling) | 2 | 6 (1) |
| | Stephen B. | Ranger | Dead (Trolls) | 1 | 4 (1) |
| | Dark Jedi | Cleric | Alive | 0 | 6 (1) |
| | Chris | Druid | Retired | 0 | 5 (1) |
| | Rain (NPC) | Cat | Alive | 0 | 5 (1) |
All levels indicated are those the characters ended the campaign at: those in brackets are the character's starting levels.
---
Angor was usually called Super Dwarf because he was so damned hard! He had amazing stats and huge quantities of hit points - to the low-level adventurers he seemed unkillable. He wore splint mail armour that he never removed and he carried a nasty short sword and shield. He rode a dwarven war pony called Giffy who was much harder than most adventurers and indeed saved Angor's life once when he was assaulted by four bandits.
He helped the party out a great deal by being so hard, and was single-minded in his determination to fulfil his quest for Oax. This meant that he had more than his fair share of arguments with the various party members when they seemed to be helping random folk out 'completely pointlessly'. Still, he was instrumental in the death of the wizard Cimosco, and went on to join the others in their further quests (the second campaign).
Stats: STR 17, Dex 17, CON 18, INT 8, WIS 14, CHA 15, COM 12.
---
Christine was only with the party for the escapade to Cimosco's Island, but in that one adventure she proved her worth a thousand fold. She was tough and skilled, holding the position of Champion to the Sorcerer King of the Jandarr Empire. She was still young at this stage, and new to the position, and her role in the party was to make sure they did the task required. This they did, and may not have succeeded had she not been with them. Some might blame her for the death of Karl, for at the time of his death he was madly in love with her (the result of an ill-chosen potion) and walked onto a log over a chasm with her in order to escort her safely. Sadly, she was tied on and he was not, so when he fell, she caught him and they both fell, but she let go of him as they crunched into the ravine wall and he plummeted into the chasm. That didn't kill him, but failing to climb 10' to the dangling rope did. After the adventure, Christine returned to the Empire and the party have neither seen nor heard of her since, but when the Empire fell 12 years later, she was presumed killed with her King.
Stats:
STR 12, Dex 13, CON 11, INT 14, WIS 14, CHA 9, COM 11.
---

Frayer was the only child of the Hal'Baird family - blacksmiths who lived in the town of Craje. Frayer had always wanted to be an adventurer, so she joined the party on their return from Chunn. She was a valuable member of the group, bringing both her sword skill and her ability to amaze and confound. Like once she decided to try wielding two longswords at the same time whilst on her horse... this resulted in a bit of ear-chopping for the poor horse and much amusement for the group. She also was a bit picky with her men, allowing them to be with her but only on her terms.
She liked to wear chainmail over black leather (in retrospect she resembled Xena quite accurately) and she had long black hair. She brought a certain hard justice and sanity with her to the group, and was very instrumental in the death of Cimosco, striking the killing blow, to be precise. Afterwards, Frayer went on to join the others in their future adventures... (aka Campaign 2).
Dark Jedi was once renowned for referring to Frayer as a 'psycho hose beast'. I believe he was not alone in this sentiment...
Stats
: STR 15, DEX 14, CON 13, INT 11, WIS 11, CHA 13, COM 14.
---
Kaer is an albino elf with a mysterious past, who went on to take the role of one of the Elven Council of Three. He was ever a quiet elf who spent most of his time studying his spellbook and scribbling notes in his note book. Everyone seemed to like him, and he was very good friends with Morwen and Karl especially. He liked to wear chainmail with green clothes over the top and wield a longsword and shield with skill.
His habit of saying very little tended to draw him into the background, but he was always there to lend a hand. Except for that time he got kidnapped by orcs, of course... He, too, was instrumental in the death of Cimosco (better known as Chinny-moscow), as it was him and Morwen who managed to pinpoint the mage for Frayer. However, his most famous talent was for soaking up damage and being the first to fall in combat. He actually died on Cimosco's Island as he slipped off a ladder and fell into a river of boiling mud but Karl rescued him and used the ring of resurrection to raise him again.
After the party went their separate ways, Kaer returned to rule his people, but slept with Frayer on his way home... Kaer was to return in the Third Campaign.
Stats:
STR 17, DEX 14, CON 13, INT 17, WIS 11, CHA 13, COM 14.
---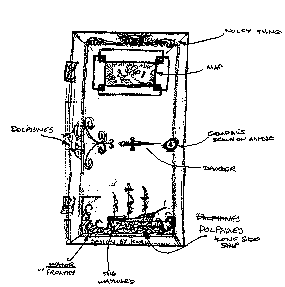 Karl was a half-elven rogue with a good heart. Nobody knew who he had stolen it off, of course...
Seriously, though, Karl was a small-time crook who preferred to keep a low profile and use his talents to help the needy rather than improve his own situation. The amount of stuff he sent home for his sister, Sarah, is a testament to this, as is the time that he went out of his way to establish a group of slaves as the owners of an armour supply shop. He went for a time under the name of Randal Phillips, until he handed that onto the slaves as well.
Karl got on very well with the rest of the party, helping Morwen to write, getting drunk with Kaer, avoiding Frayer like the plague, mocking Lientei for being a ponce etc etc. He had a favourite place in the party - at the very front with his daggers drawn. This rarely served him well but he liked it so much that the others let him stay there until he fell down.
Karl died twice in Cimosco's Island - the first time he was resurrected but the second time he passed his save vs. resurrection. His death was spectacular, though, as he plummeted and bounced his way into a chasm and then actually died when he slipped 10' down the opposite cliff face.
Karl's most prized possession was a dagger harness that Morwen made him, and the picture shown is a door on the Wayward that Karl carved (that then went down with the ship).
Stats
: STR 11, DEX 15, CON 10, INT 12, WIS 13, CHA 13, COM 11.
Back to the Top
---
Lientei was the ranger of the original party - an elf with a love for nature and all things Elven. One of his favourite activities was training his falcon, Racine, so that she would be responsive to his requests. Lientei was a very precise character, even with regard to his height (1.812925m to be very precise). He was nimble and good with animals, as one would expect. He also had high expectations for himself - as demonstrated by his early career. For example, when the party encountered a town beseiged by orcs, Lientei took it upon himself to charge his horse at the orc archers, with the intention of leaping the wall. Naturally, the orcs shot him and the horse and it was only the timely intervention of Morwen that saved his life.

He was an inventive warrior who favoured a style that included his longsword and anything else he could hold. He was a quiet and unassuming type, with a great deal of focus on those issues that concerned him. He was always patient and calm. Sadly, the ranger never made it to Cimosco's Island as he was slain when he decided to go Troll hunting with some Dwarves. Of the four that went, only one returned: Angor. The party mourned him greatly.

Stats

: STR 13, DEX 17, CON 14, INT 12, WIS 14, CHA 14, COM 11.
---
Take it away, Dark Jedi:
Physical Description:
Morwen has thick black hair reaching a little below her neck, and clear grey eyes. She has, of course, no beard. Reasonably attractive, at least by dwarven standards, she stands almost exactly four feet tall and has a strong build, earned through long hours of physical training during her novitiate for the priesthood.
Personality:
Compared to most dwarves, Morwen is positively garrulous and willing to get along with just about anyone and anything. She is generally cheerful but has a tendency to become pessimistic in the worst situations. Morwen's upbringing has made her fully at home in combat situations but a little innocent in the ways of men and women, which tends to make her the butt of several innuendous jokes amongst the other party members which she generally fails to notice for what they are.
Brief Background:
The Gallandors (in Dwarven, "First Hammer") are a respected and well-established mining family, but Morwen knew from an early age that she wanted to join the relatively new order of Iaphre, a goddess of warcraft. Finally persuading her parents to let her attempt to enter the order, she passed the tests and became initiated. Soon after she reached the rank of full priestess, she was sent into the outside world, ostensibly to survey the surrounding human lands and attempt to make contact with the other priestesses of the order in distant dwarven colonies. It was during this trip that she met the other members of the party.
Hobbies:
Devoted to her goddess, Morwen has had little time to take up hobbies in her fairly short lifetime. She does enjoy cooking, and physical contests of the type in which the novices used to compete. During her time with the party Morwen has also taken it upon herself to begin learning both to write in Commen and to speak Elvish.
Now my bit:
Morwen joined the party as an innocent young dwarf with a few years as a novice cleric of Iaphre, goddess of warcraft and female arts, but by the time she left she was something of a sensation among the Dwarven female population. Although from humble beginnings - a traditional mining family - she eschewed the possibility of treading the traditional path of the Dwarven woman to train as a priestess. Within the party she was both loved and respected, being their much-needed healer and a strong spear-arm in a fight. She was kind but firm and got on with everyone one way or the other. As you might expect, she was stubborn and loyal and held a grudge well, but level-headed and sober at the same time.
She wore a bronze aegis (breastplate & greaves with leather trousers and a leather spartan-style skirt), with a red cloak. She preferred to wield a spear and was very possessive of it. Her favourite spell was flame spear and she used it at every viable possibility. She was regularly the butt of jokes involving intimate male-female relationships as her devotion to a chaste priesthood and her youth (she was but 50 years old) meant that she really wasn't that clued up on that aspect of life.
She also had a strange tendency to accuse everyone she met on the road that couldn't make proper account of themselves of being Cimosco. After killing Cimosco, she returned home to discover the fate of her family, who were caught in the terrible earthquake that ripped through the Darkrift Mountains. As it happened, both of her parents had been killed and her brother was missing, presumed dead, while her last surviving uncle had become a troll slayer to hide his bereavement. Despite this, Morwen embarked upon the further adventures as provided in Campaign 2.
Stats
: STR 14, DEX 11, CON 14, INT 9, WIS 16, CHA 11, COM 9.
---
Seth was an unusual character, being an elf from the distant Mystic Isles. She had been chosen by her people to save them from a great dark evil, and her task was to find an artefact that would restore life to the places the evil had destroyed. It turned out that the item she sought was in the clutches of... Cimosco, and so she joined with the party on their quest. However, Seth was separated from them in Chunn, and proceeded to make her own way to the Island (in other words, Chris quit the campaign and Seth became an NPC). The party met up with her a once - when they freed her from slavery with the very slavers who had captured them - but they discovered the rest of her tale when they rescued Adrian from the clutches of Cimosco's red dragon. Seth has not resurfaced thus far during the campaign (as Chris is far from here now) but she has been in the background. Her land is still under threat but with the help of Adrian and others, she and her people are slowly winning the fight.
Stats
: STR 11, DEX 17, CON 13, INT 12, WIS 13, CHA 15, COM 13.
---
Sisski is an Elven cat who joined the party 'for the hell of it' when she encountered them in the forests. She is an enigmatic little creature, wise and knowledgeable beyond her years, and more powerful than you would expect. Unlike most of her race, her interests lie in helping the cause of good, and the cause of the humans if necessary. Although she only speaks Elven, she understands the common tongue and seems to instinctively know and understand other people - a talent the party often employed in order to identify the intentions of would-be attackers. Her declarations of 'bad person' have saved the party many a time. She doesn't really understand bipeds, but she tries hard, and she is very fond of the party - even Angor, in his incredibly smelly way.
Sisski was called 'Cat' by Angor (see how he tries her patience?) and 'Schitz' by Karl and occasional others, and in return she called Morwen Mo'wen. She didn't actually go to Cimosco's Island, but caught up with the party afterwards and returned to Amir'Shaan with Kaer, only to come back for more adventures in the second campaign.
Stats
: STR 5, DEX 19, CON 10, INT 7, WIS 12, CHA 16, COM 15.
---
[Banana Zone] [Banana Zone] [The Dungeon] [NPCs] [Campaign #1] [Campaign #2] [Campaign #3] [Campaign #4] [Campaign #5] [Campaign #6] [History] [Players]